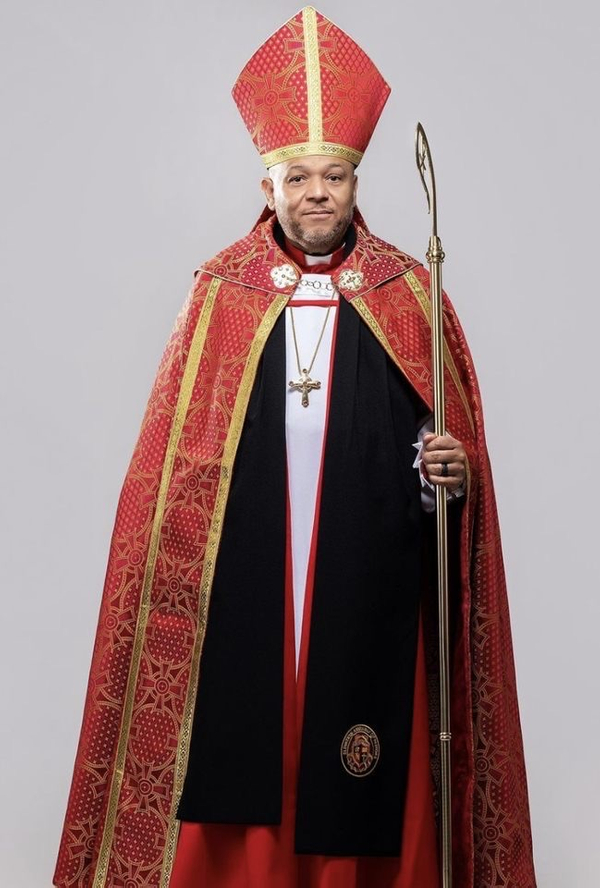 Bishop Anthony G. Maclin
Bishop Anthony G. Maclin was born in Washington, D.C. and educated in the District of Columbia public school system. He received a Bachelor of Business Administration and Master of Divinity, both from Howard University; and received an Honorary Doctor of Divinity Degree from the Richmond Virginia Seminary in Richmond, VA.
He became Pastor of The Sanctuary at Kingdom Square (formerly Glendale Baptist Church) in July 1986. Under his pastoral leadership The Sanctuary has grown from a membership of 192 active members to its current membership of more than 3,000. He has developed and currently leads nearly 75 active ministries. In 2000 the Multicultural Worship Center (MWC) was birthed and in January 2005, MWC was officially planted as a separate congregation. Pastor Maclin has directed the purchase, lease, and renovation of more than $24,000,000 in properties for church use. Consecration & Installation Program
In 2004, the church purchased the Hampton Mall Complex, renamed Kingdom Square. Kingdom Square had a Bible Babies Child Development Center, which housed 100 plus children; Fitness 4 Less; Enterprise Car Rental; Global Vision Foundation; Dental Office; Beauty 4 You; Family Dollar Store; IHOP; Dunkin Donuts and the Long John Silver restaurant. The Central Gateway Community Development Corporation, which is The Sanctuary's Community Development Corporation, received a TIF (Tax Increment Financing) award in the amount of $16,100,000.00 towards the planning and development of Kingdom Square. This marked the first time in Prince George's County history that an African-American community group had been awarded this kind of funding. Bishop Maclin is one of the contributing authors to "Doing Church" compiled by Dr. William D. Whatley.
Bishop Maclin and The Sanctuary at Kingdom Square were featured in the September/October 2006 issue of Gospel Today Magazine. The magazine lists Pastor Maclin as one of "The 10 World-Class Pacesetting Pastors." Bishop Maclin and The Sanctuary at Kingdom Square were also featured in the September/October 2011 issue of Gospel Today Magazine where the magazine lists Pastor Maclin as a "Pastorpreneur" as well as being featured in the May 2006 issue of Black Enterprise Magazine. Bishop Maclin serves on the Executive Council of the Kingdom Association of Covenant Pastors, where he is the 1st Assistant to Bishop Walter S. Thomas, Sr., Presiding Prelate and he previously served as the President of the Collective Empowerment Group of Prince George's County and Vicinity. Bishop Maclin is a member of the Lott Carey Baptist Foreign Mission Convention and the Hampton Ministers Conference. Pastor Maclin was recognized by the 100 Black Men of Washington, DC in April 2010 for Outstanding Leadership in Community Development.
In 2018 Bishop Maclin and The Sanctuary at Kingdom Square collaborated with ARC Properties, Inc., and Velocity Capital, LLC, to initiate the Hampton Park project, to revitalize Kingdom Square. This mixed-use development project will house multi-story apartments, retail, office, parking buildings, a Market Fresh Gourmet grocer, and a new 115,000-square foot office building to house the headquarters for the Prince George's County Health and Human Services Division.
He is married to First Lady Reverend Peggy D. Maclin who shares in the work of ministry at The Sanctuary. They have two wonderful children, Krystle, a graduate of Hampton University, and Brandon, a graduate of Berklee College of Music in Boston, Massachusetts.