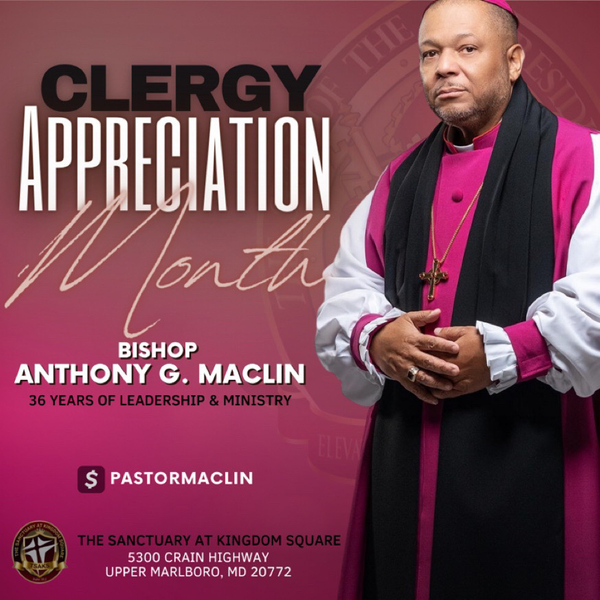 7 Powerful Prayers for Pastor Appreciation Month
1. Pray for Your Pastor's Daily Heart-Connect with Jesus

2. Pray for Your Pastor's Priorities

3. Pray for Your Pastor's Protection from Enemy Attack

4. Pray for a Pastor's Marriage and Kids

5. Pray for "Fresh Manna" to feed God's People

6. Pray for That Life-Changing Combination of Courage and Compassion

7. Pray for Encouragement
Bishop Anthony G. Maclin
Bishop Anthony G. Maclin was born in Washington, D.C. and educated in the District of Columbia public school system. He received a Bachelor of Business Administration and Master of Divinity, both from Howard University; and received an Honorary Doctor of Divinity Degree from the Richmond Virginia Seminary in Richmond, VA.
He became Pastor of The Sanctuary at Kingdom Square (formerly Glendale Baptist Church) in July 1986. Under his pastoral leadership The Sanctuary has grown from a membership of 192 active members to its current membership of more than 3,000. He has developed and currently leads nearly 75 active ministries. In 2000 the Multicultural Worship Center (MWC) was birthed and in January 2005, MWC was officially planted as a separate congregation. On January 1, 2019, Pastor Maclin was elected as Bishop-Elect and Presiding Prelate by the Elevation Assembly of Pastors.
Bishop Maclin directed the purchase, lease, and renovation of more than $24,000,000 in properties for church use. He is the co-developer of the $250 million Hampton Park mix-use development in Capitol Heights, Maryland. On October 5, 2019, the ribbon cutting ceremony was held for the new worship facility for The Sanctuary at Kingdom Square located in Upper Marlboro, Maryland.
Bishop Maclin serves on the Executive Council of the Kingdom Association of Covenant Pastors, where he is the 1st Assistant to Bishop Walter S. Thomas, Sr., Presiding Prelate. He is a former President of the Collective Empowerment Group of Prince George's County and Vicinity. Bishop Maclin is one of the contributing authors to "Doing Church" compiled by Dr. William D. Whatley.
On November 13, 2021, Bishop Maclin was elevated to the office of Bishop and Presiding Prelate of the Elevation Assembly of Pastors.
He is married to First Lady Reverend Peggy D. Maclin who shares in the work of ministry at The Sanctuary. They are the proud parents of a daughter Krystle, a son Brandon and his wife Aryka.