Kingdom Knights Motorcycle Ministry
Vision Statement:
The vision of the Knights is to have chapters nationally and abroad. To show the world you can ride a motorcycle and love the Lord at the same time.
Mission Statement:
The mission of the Knights is to give bikers an option to get out and enjoy the sport of motorcycling with a group of Christians who also share the same passion for riding motorcycles and love the open road.
Scriptural Foundation:
"…then you will find your joy in the LORD, and I will cause you to ride in triumph on the heights of the land" Isaiah 58:14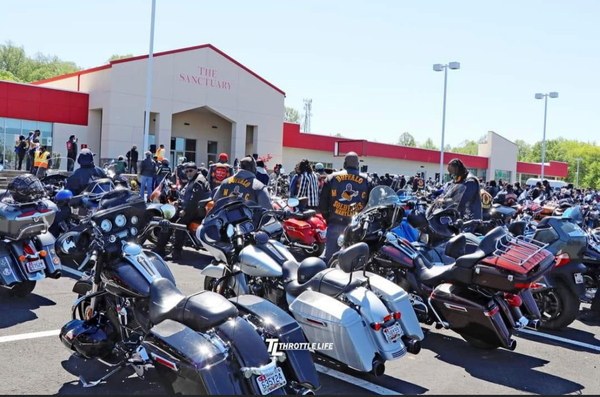 Prospective Members:
Interested persons must complete a membership application.
CHURCH MEMBERS: Once you meet with the President and decide to join the Ministry you will be required to pay your initiation fee. You will be issued your vest. BUT! It will only have the Top Rocker on it. After you complete 4 events you will receive your Lower Rocker. (Four events first because we want to make sure you are dedicated to ministry) to receive your Center Patch you must complete four Sanctioned Rides. It's up to you to keep up with your activity. You will need a Council member to sign off on your events or rides. (We suggest you keep a small note pad.) When your events and rides are complete you will receive your center patch at the Knighting ceremony. (When it's scheduled)
NON-CHURCH MEMBERS: All the above regulations. PLUS, you must be brought in by a member who will speak on your behalf; and the Council will vote on your initial acceptance.
Interested persons do not have to be a part of any church to be a member of Kingdom Knights.
Interested persons must have a valid driving permit or license and a safe, operating motorcycle.
Only Kingdom Knight members with motorcycles can purchase a vest and become an active member.
No Prospective member will be knighted during our non-riding months.
Ministry Events and Community Outreach:
Bikers' Sunday
Car and Bike Show
Warm Nights
Focus on Giving
Toys for Tots
Ministry Meetings: We meet every other month or when necessary.
Council: We meet once a year or when the President needs help with major decisions.