Scholarship & Vocational Education Ministry
BAE Systems will be conducting the WIT program this year in person!! Below is a schedule and attached is our application. We will meet Wednesday 3:30-5:30pm. Application process is now open to all Juniors and Seniors. Any questions, please contact me (mobile is best and listed below) Deadline is Monday, October 17th. Those that are new to the program its focused toward female students with exceptional skills in Math and Science.
We will be exploring electronic circuits, coding with Arduino's and bread boarding circuits, and design 3D object with CAD tools.
We will be showing them our Failure Analysis machines(really powerful microscopes) to detect process failures of our microchips.
We will be teaching them how to solder.
We will guide them on how to format a good resume and how to conduct oneself during an interview.
We also have a collaborative Mission to Mars game where we talk about planning a habitat on the red planet.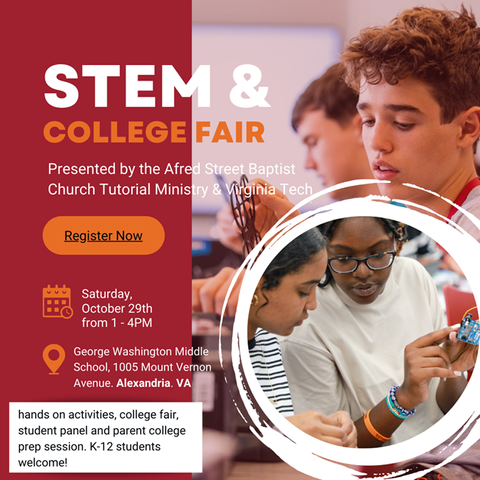 Are you in the Metropolitan DMV area? Join us on Saturday October 29th from 1-4:00 PM, at the George Washington Middle School, Alexandria, VA. The Alfred Street Baptist Church Tutorial Ministry and Virginia Tech presents the STEM & College Fair. The Fair is a collaboration between Alfred Street Baptist Church, the Virginia Tech College Access Collaborative, Virginia Tech Innovation Campus and the Virginia Tech Center for the Enhancement of Engineering Diversity.
High School & College/University Internship at Naval Information Warfare Center (NIWC)
High school and two college/university internship opportunities offered at Naval Information Warfare Center (NIWC) formerly known as SPAWAR. One of my goals as the Hampton Roads STEM Program Manager is to increase awareness of the amazing opportunities afforded to our students to work in one of our NIWC Labs. The students will receive a stipend during their time with us and they will be engaged in meaningful work. All the programs are competitive and we are limited to the amount of students we are able to select.
We offer three internship programs: nFor high school students we have program called Science and Engineering Apprenticeship Program (SEAP):
- This is an 8-week internship during the summer --- Targeting: rising 10th through 12th graders --- Must be 16 years of age by the internship start date (typically the end of May/early June timeframe) and able to drive on-base as needed
- U.S. citizen -- For college students, we offer NREIP and HBCU/MI Cyber Internships: -- Naval Research Enterprise Internship Program (NREIP):
- This is a 10-week internship during the summer (May – August) - Must be enrolled at a four-year U.S. college or university accredited by the U.S. Department of Education; students attending two-year colleges who meet the credit hour requirements may be eligible at the laboratory's discretion
- U.S. citizen & eligible to receive a security clearance -- Department of the Navy –NAVWAR Historically Black Colleges and Universities/Minority Institutions (HBCU/MI) Cybersecurity Information Assurance and Data Science Internship Program:
- Cyber Internship program is designed to be the Navy's premier cyber and data science outreach effort to undergraduate and graduate students attending the nation's HBCI/MIs
- Two phases: Phase I: Mentorship (February – April) --- Phase II: Internship (May – August)
- U.S. citizen & eligible to receive a security clearance --- See attached flyers for each of the programs for your review and dissemination. If you have any questions please do not hesitate to Email: shawn.c.frazier@navy.mil